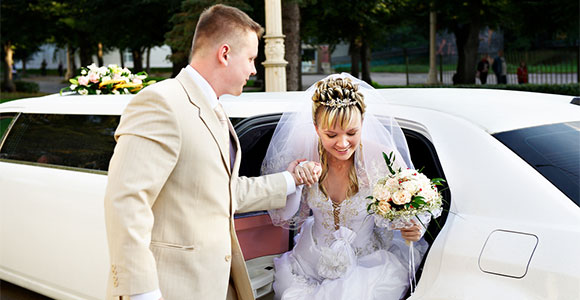 We make your wedding day in Houston a piece of cake with Rick's Valet Parking by providing unparalleled transportation services. We understand how essential it is to have reliable transportation on your big day. A wedding is a once and a lifetime experience that requires much attention to detail.
Rick's Valet Parking puts on the white glove to make all of your wedding limousine dreams come true but our red carpet service does not just stop there. We also take pride in making sure your limo is as elegant and lavish as your wedding itself. When you rent a limo from us in Houston on your wedding day we want to go above and beyond to make your traveling experience a fairytale.
We know you'll carry the memories from your wedding day for forever so why not make them worthwhile? You're guaranteed to enjoy a luxurious trip when you call on Rick's Valet Parking for your wedding day. From the sleek interior of our limos to the simplicity of your booking experience, when you book a limo through Rick's Valet Parking, you'll get everything you want and need.
When one of our drivers picks you up in Houston, TX expect to be driven on the most enjoyable and safe route to your wedding destination. We only have highly experienced, fully licensed professionals behind the wheel to provide a smooth and safe trip to your wedding. Along with having such great drivers we have top notch limos with lavish interiors that are perfect for this special occasion. Our limos and incomparable customer service will help create wedding memories that will be cherished for years to come.
Whether you're transporting your wedding guests or the bride and groom we want to ensure you'll have an exceptional experience. Your wedding day is a day to remember and we'd love the opportunity to make it a day you'll never forget. Make your wedding day count by counting on Rick's Valet Parking to meet all of your transportation needs.