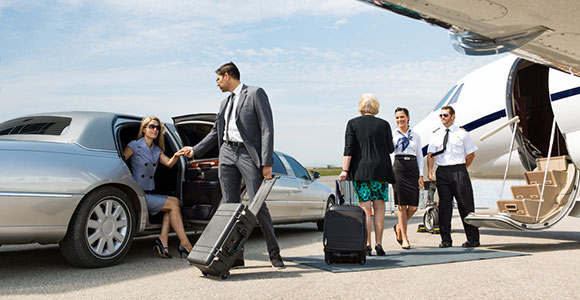 Making sure you have reliable airport transportation is as important as catching your flight on time. We know at Rick's Valet Parking how essential it is to get you to your destination and are willing to do whatever it takes to meet all of your airport travel needs.
Our limousine services are provided to and from Houston airports. When you specifically mention Houston George Bush Intercontinental Airport (IAH) we'll offer discounts for our commercial/corporate accounts. Whether you're going with a group of people to the airport or traveling solo, Rick's Valet Parking will take you to the airport in style.
Rick's Valet Parking is in the business of traveling customers in luxury and we believe traveling to the airport shouldn't mean you have to compromise on that. We want you and your guests to arrive on time and comfortably to wherever your final destination may be. At Rick's Valet Parking we are accessible 24 hours a day, seven days a week for your service, and the exemplary customer service continues from there. When you give us a call and decide to pick us for your airport needs, you deserve to feel completely at ease with the choice you made. Once you experience our superb service you will know you made the right decision.
We promise your trip to the airport will be quick, convenient and extremely comfortable. Our drivers don't just fly by the radar they pass your driving expectations by taking you on the most convenient route to your destination. We supply the best professionals in the industry to give you the most memorable drive to the airport.
At Rick's Valet Parking we are interested in taking the weight off of your shoulders and taking you wherever you need to go. We completely comprehend how stressful it can be to travel and we will do our best to make sure your trip to a Houston Airport will be stress-free.